2020-12-15 09:31:00
2020-12-15 09:31:00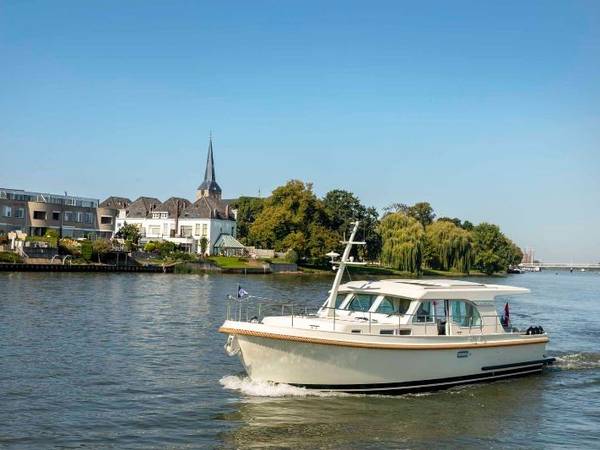 December 15, 2020
De Linssen Grand Sturdy 40.0 sedan INTERO
---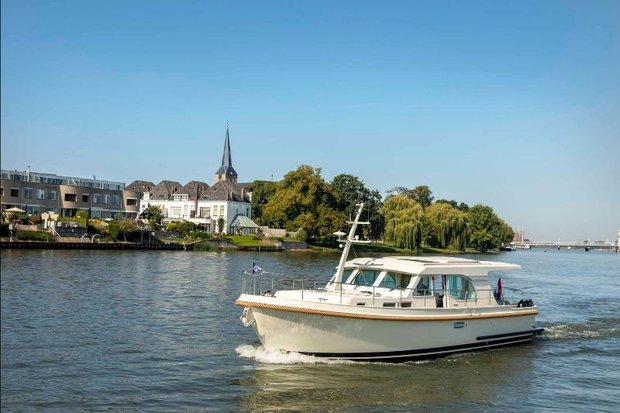 The yacht with dimensions of 12.85 x 4.30 meters can be described as voluminous, with a beautiful full and wide prow making it unprecedentedly spacious. Nevertheless, the ship can be recognized by its elegant and slim profile.
The renewed windows with extra-large glass surface allow a maximum amount of daylight to enter. The sidelights are incorporated in the "flush" integrated "pillar trims". The larger portholes in the front cabin also provide more light in the interior. With the same style elements, it looks like one large window. As an extension of the structure of the boat, the Linssen Longtop runs over the cockpit, making sitting in the cockpit comfortable and dry in all weather conditions. The decentral stern door on the port side is ideally positioned. This provides room for a spacious integrated L-sofa.
The completely renewed helm position on the port side is a real eye-catcher together with the new "pop-out and slide door" and adjustable (left-right and forward-reverse) steering bench. Handy to easily reach the cleat from the steering position, quickly lay a rope in the lock or harbor, and then put the ship in place in peace. An optimization of format in actions and maneuvers.
In this 40 Sedan, the connection between saloon and cockpit is on one level, with only a low threshold.
Conscious choice of materials
Compared to the interiors of previous models, the new interior is lighter and more contrasting. It starts with the floor with a warm, deep brown Wengé finish, laid in wide strips for an optimal depth effect. We have always used okoumé hardwood with a cherry finish to finish our interior. However, for the INTERO we have deliberately opted for a lighter cherry tone, which contrasts beautifully with the leather upholstery of the furniture.
In addition to the "external beauty", the (technical) basis is very strong.
Here is a selection of the various innovations:
SPH hull shape. Like its bigger sisters, the 45.0 and the 450, 480 and 500 AC Variotop, the 40.0 INTERO now also comes in the Softchine Prestressed Hull shape. Combined with the Linssen 'stern gear' construction with free-hanging rudders in NACA profile and propeller and propeller shaft in P-bracket, this ensures even better characteristics on rougher water.
Reinforced constructed rafters on the inside
Completely newly developed Floor Integrated System (FIS®) for even more efficient concealment of all pipes and cabling
New engine room equipment. The biggest difference when you open the hatch to the engine room: tidy layout, spacious and uncluttered. Thanks to the TMM® principle (Ten Main Modules) you have good access to all components
ICCESS®. The 40.0 is now also equipped with the Integrated CAN bus Controlled Electric Supply System. The two ICCESS control panels are centrally located in the living area and directly at the helm station
Long top with drainage. The Sedan has been given a renewed Longtop roof with integrated drainage